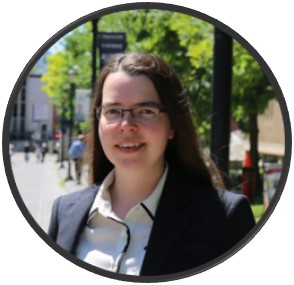 Marina Freire-Gormaly, PhD, EIT, LEED GA
Assistant Professor
marina.freire-gormaly[at]lassonde.yorku.ca
Publications & Citations
Publication list is available here.
Citation metrics are available here.
Education
2018 – Ph.D. Mechanical Engineering, University of Toronto
2013 – M.A.Sc. in Mechanical Engineering, University of Toronto
2011 – B.A.Sc. in Engineering Science, Major in Energy Systems, University of Toronto
Biography
Marina Freire-Gormaly, PhD, is an Assistant Professor in Mechanical Engineering Department at the Lassonde School of Engineering at York University. Her research focusses on the development of stand-alone solar powered reverse osmosis water treatment systems and energy recovery systems for remote communities that lack access to grid electricity. She also is interested in machine learning applications for smart design of innovative energy and water systems. Her research interests are also in advanced manufacturing, smart systems using Internet of Things & artificial intelligence, and advanced additive manufacturing methods.
She completed her Ph.D. and M.A.Sc. from the University of Toronto in Mechanical Engineering. Her M.A.Sc. was on pore space characterization of carbonate rocks using micro computed tomography and pore network modeling for advancing Carbon Capture and Storage Technology. She has previously been a course instructor for undergraduate energy related engineering courses at the University of Toronto.
She has also worked at Ontario Power Generation (OPG) on the Darlington New Nuclear Project and the Darlington Refurbishment Project. She contributed to a World Bank project evaluating Canada's 'Regulatory Indicators for Sustainable Energy' (RISE). She currently serves as the Chair of Student and Young Professional Affairs for the Canadian Society of Mechanical Engineers (CSME).
She is passionate about research and teaching energy systems to inspire the next generation of engineers to tackle society's growing sustainability challenges. Her research interests include energy systems, optimization and design for global engineering contexts.
Awards & Grants
2021 – Lassonde Engineering at York University's Research Innovation Fund for 'New Materials for Air and Water Purification'
2021 – Lassonde Engineering at York University's Innovation Fund – Media Outreach Award
2021– NSERC EIDM – One Health Modelling Network for Emerging Infections (OMNI) (Co-Applicant)
2020 – Lassonde Engineering Minor Research Grant, York University for 'Low-cost Kidney Dialysis Systems'
2020 – NSERC (National Science Engineering Research Council of Canada) Discovery Grant, Early Career Researcher Launch Supplement Award
2020 – NSERC (National Science Engineering Research Council of Canada) Discovery Grant
2020 – York University COVID-19 Funding 'Exploring Microdroplet Transmission of COVID-19 and its implications for HVAC Design'
2019 – Department of National Defense, Canada - DND 4597-E - Pop up City Contest: Integrating Energy, Water and Waste Management Systems
2018 – NSERC (National Science Engineering Research Council of Canada) PDF
2015 – NSERC (National Science Engineering Research Council of Canada) CGS-D3
2017 – Centre for Global Engineering Paul Cadario Fellow
2015 – Ontario Graduate Scholarship
2015 – Hatch Scholarship for Sustainable Energy
2015 – Ontario Society of Professional Engineers (OSPE) Personal Scholarship
2015 – Queen Elizabeth II/Dupont Graduate Scholarship in Science & Technology (OGSST)
2011 – Gordon Cressy Student Leadership Award
2011 – Spirit of EngSci (Engineering Science) Award